Birrer Art Studios
Home Statues Babe Ruth The Story Ephemera Paintings Contact Us
April 15, 2011 - Jackie Robinson Day in Philadelphia At the invitation of the Phillies, the Jackie Robinson statue does several appearances around the city, culminating in the Jackie Robinson Day festivities that night at Citizens Bank Park.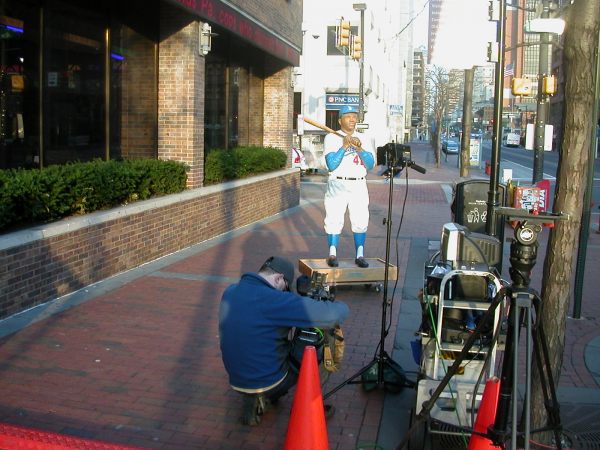 7:20am - Jackie hits his first mark out in front of Fox studios. A few teaser shots and then a short interview with Fox 29's John Anderson.
Click here to see the interview in a new window
9:00am - Over to CBS3 for another interview with CBS's Uke Washington and Kenny Johnson of the Phillies.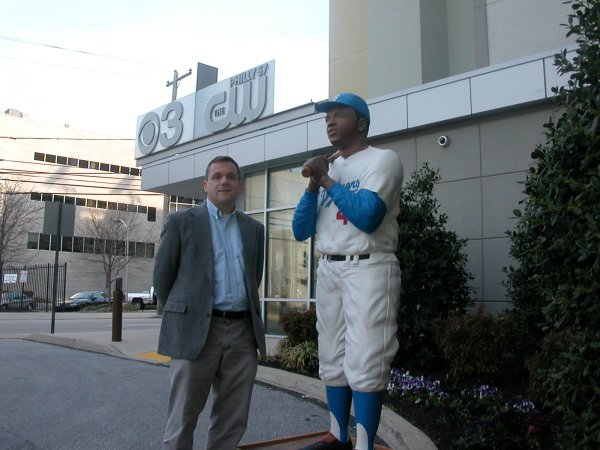 Click here to see the interview in a new window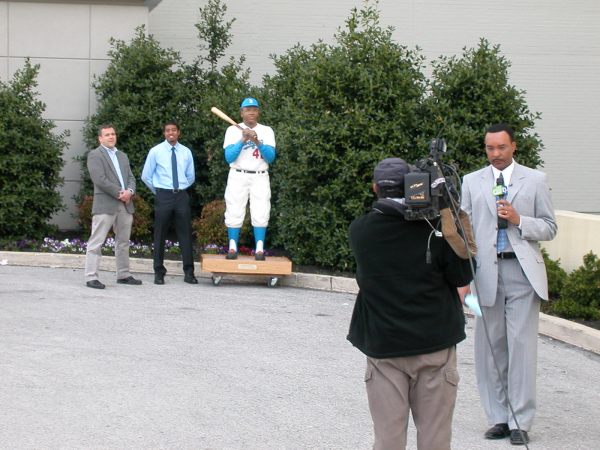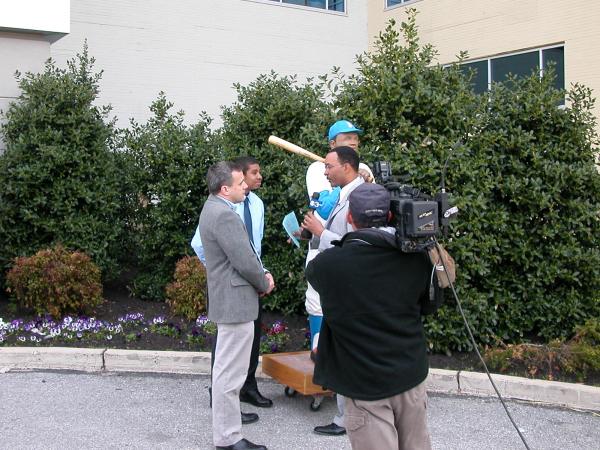 11:30am - Community event at the site of the Philadelphia Stars Memorial at Belmont and Parkside Aves. That crossroads was the location of the Philadelphia Stars' ballpark. The Stars were Philly's entry in the old Negro National League. Later this day, my family would get to meet two of the last surviving members of that franchise. I was pleased that they enjoyed the Robinson statue.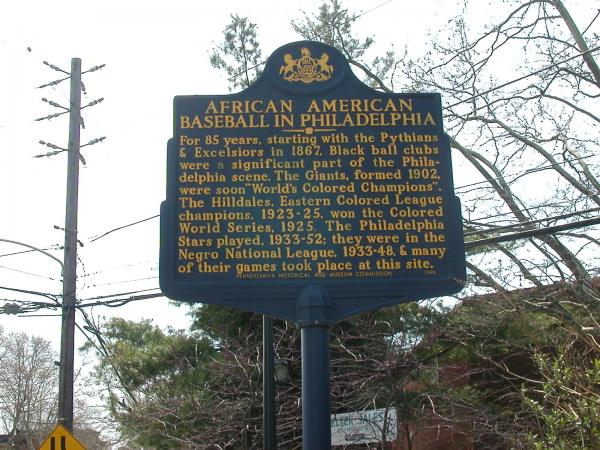 Here is the blue plaque, marking the site.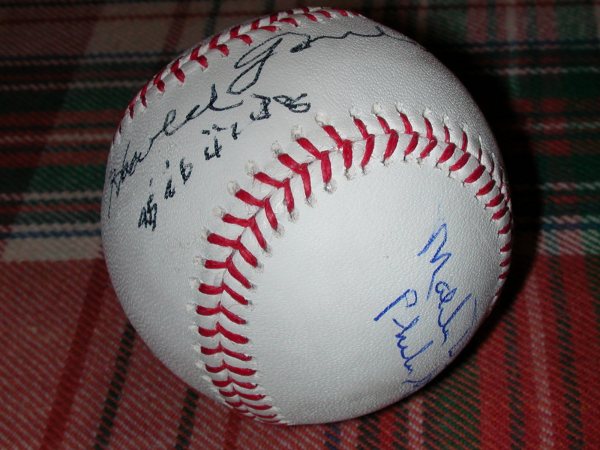 The gentlemen who signed were Mahlon Duckett and Harold Gould and their names are visible on this monument to The Stars.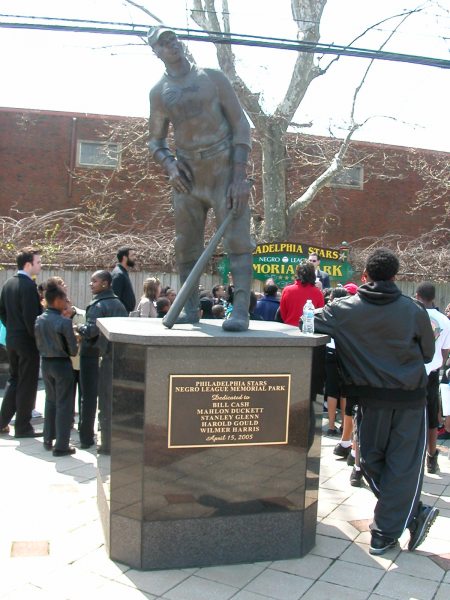 I also got a chance to meet some of the Tuskegee Airmen at the ballpark that night as they were part of the ceremony, and that was a big thrill. My father and just about all of my uncles were WWII veterans. Men of that generation shaped me more than any other and I have read a great deal about that war and so it was just tremendous to shake the hand of men who flew Jugs and P-51′s in those dark days.

Guys like that gave us a lot of freedom and I think it gets taken for granted sometimes, unfortunately. The Tuskegee Airmen, not only had to deal with bombs and bullets, but the institutionalized racism of the day: a double whammy. They are great men for having done all of that and children should know their story.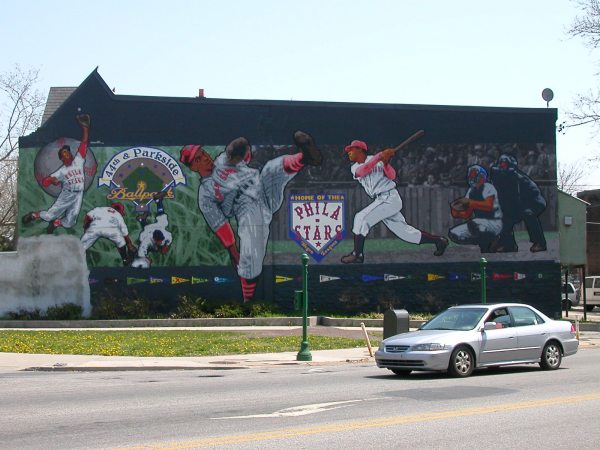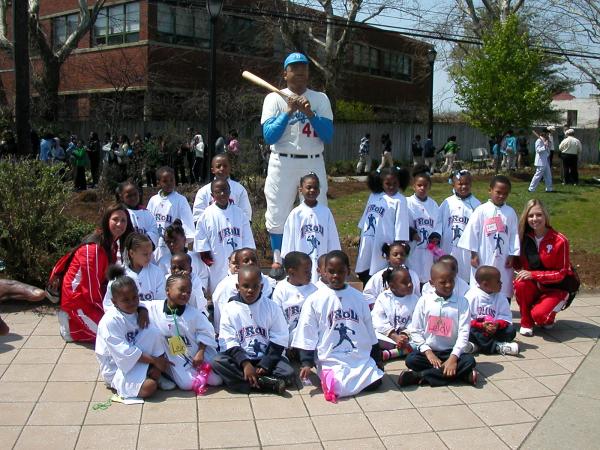 There were many groups attending and special promotions from the Phillies. The children were having a ball and posed for this photo.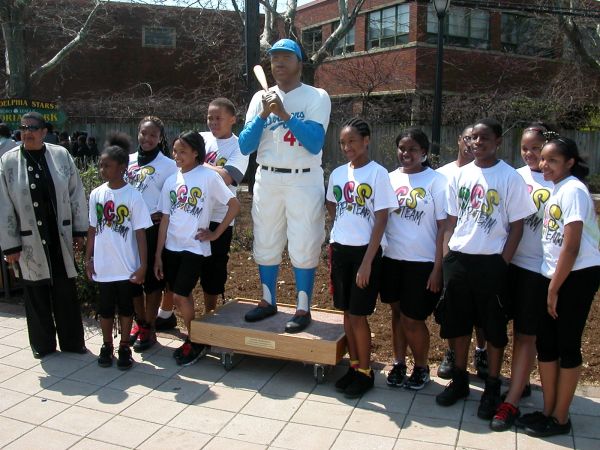 There were several groups and this particular group did a dance number before posing.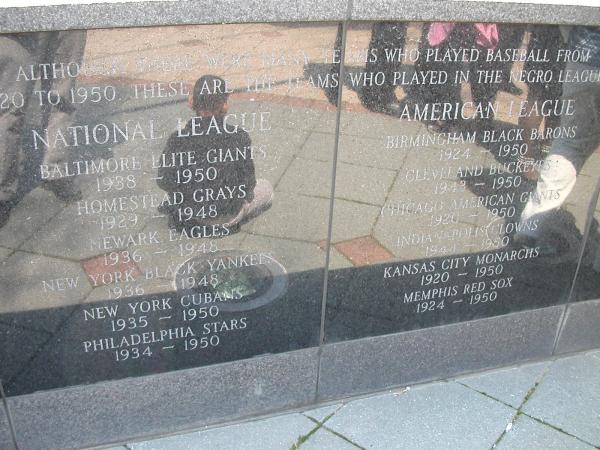 There were many nice monuments marking the site and those who were a part of it. I really enjoyed meeting regular folks from this community and just listening to the older fellows tell me how much Jackie Robinson and Monte Irvin and Larry Doby meant to them growing up. You know, when you do an event like this, those dusty pages in a history book become real live anecdotes and recollections and it was amazing to take it all in. It was also very flattering to hear the very sincere compliments for the statue. When you spend that long covered with itchy sawdust, it is very gratifying to hear these things and see the sparkle in their eyes, as opposed to words on a page.
Here we are finally at The Bank. It's early; well before batting practice and my amazing handlers with the Phillies (Kenny Johnson & Deb Rinaldi) lined up a couple of more interviews. The first was with John Mayberry, the man who's hit won the exciting Phils opener. I don't have any photos of that interview but it went very well and it was nice to see and hear John's reaction to the statue. It was probably the first time I had spoken to someone who was directly in line with Robinson's courageous work, so it was extra special for me.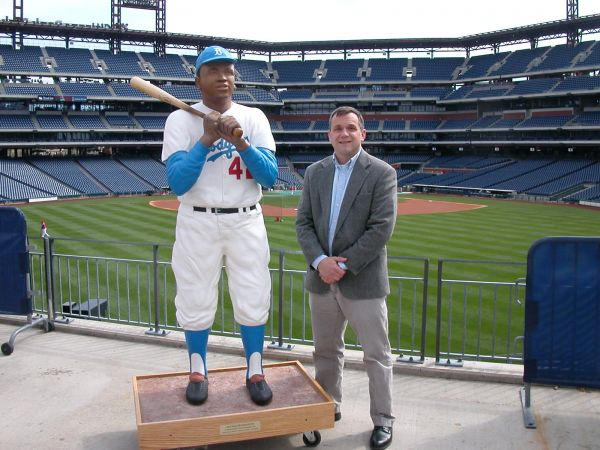 After that piece, we did a short interview with Comcast out in dead center field. What a beautiful backdrop! I have been to 40 different major league ballparks in my lifetime and Citizens' Bank Park is my favorite building. Everything about it just feels right.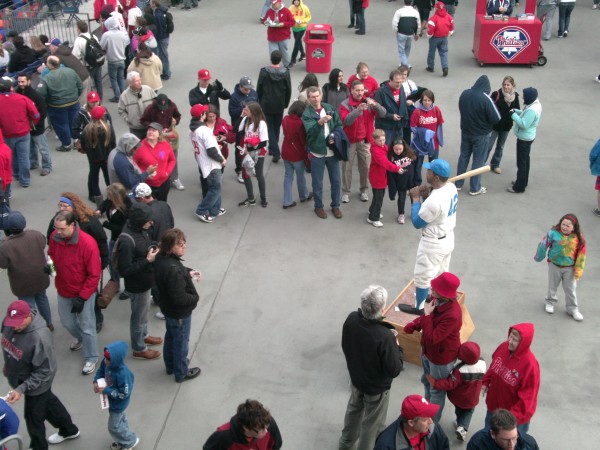 All night it was the same thing: folks lined up in a semi circle around it, taking photos and asking questions. It never gets old. I met some really tremendous people and heard just an amazing array of stories and anecdotes about Robinson, Civil Rights, baseball, art and on and on.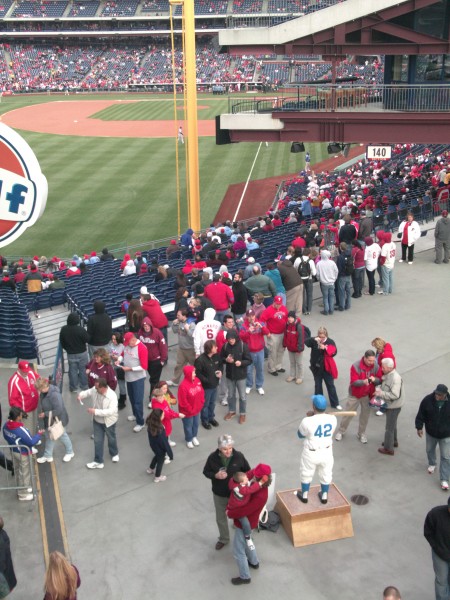 After a little breather, I did two more spots thanks to Deb Rinaldi and Kenny Johnson of the Phillies. This one is a talkback spot with questions from an unseen NBC interviewer via an earpiece.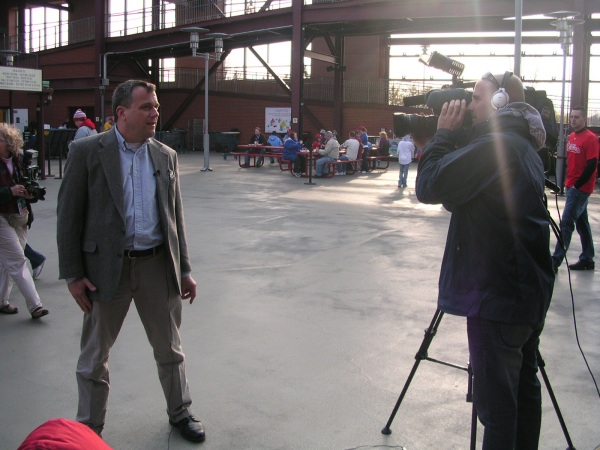 Here is a link to that spot: Click here to see the NBC interview in a new window
Here, the two minute video plays on Phanavision:
This was the basic scene all day.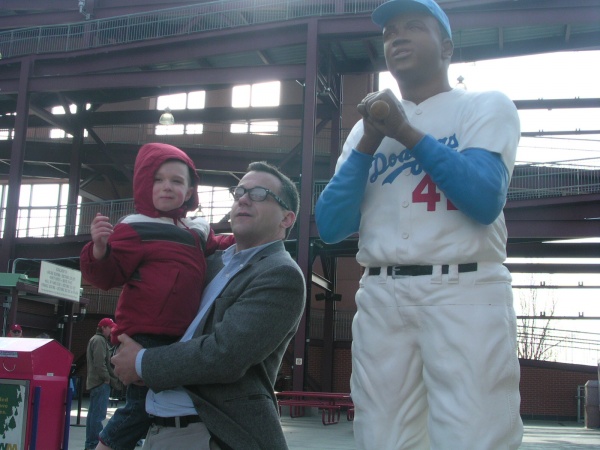 Thanks for all the kind words and stories! Enjoy the game.