Birrer Art Studios - Jackie Robinson
Home Statues Babe Ruth Ephemera Paintings Contact Us
The Making of Jackie Robinson New! 10 min video: The Making of Jackie Robinson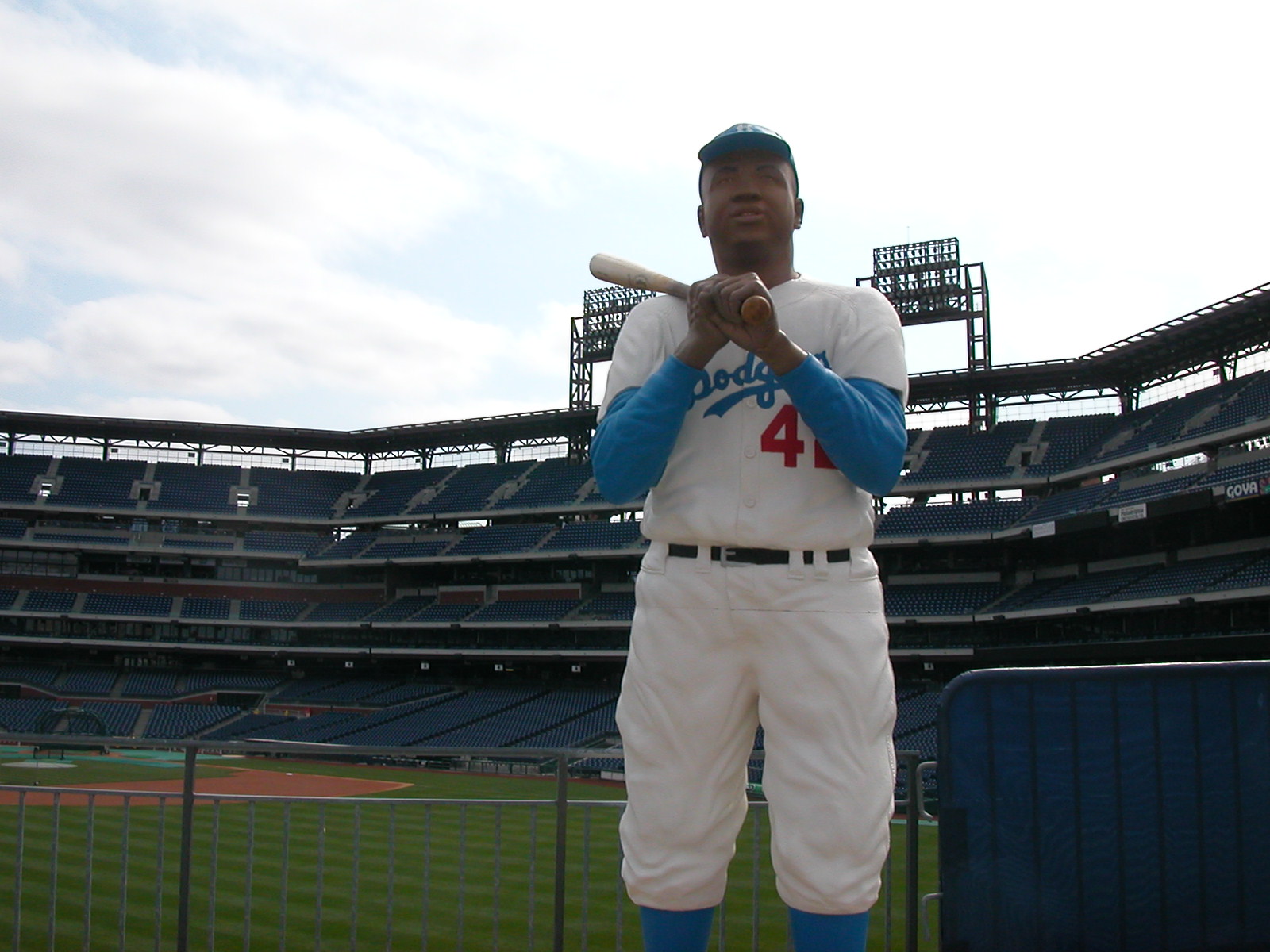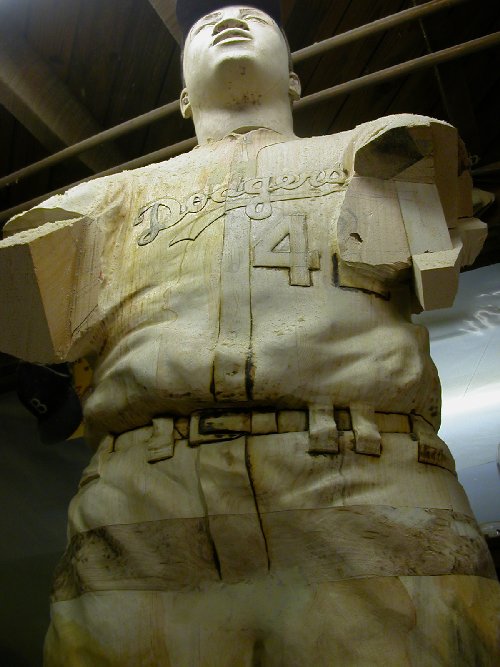 The finished piece took approximately 800 man-hours of work over a period of many months. The statue weighs 250 lbs, including the base, to which it is permanently attached, and is exactly life sized in all details. It depicts Jackie Robinson in a 1953 home uniform; the first year that the Dodgers put the red number on the front of the home uniform. Absolutely everything on the statue was done by hand by artist/sculptor Brian Birrer. Every part of the statue is made solely of wood: the eyes, the hands, the hat brim, the belt loops, the shoes and even the shoe laces.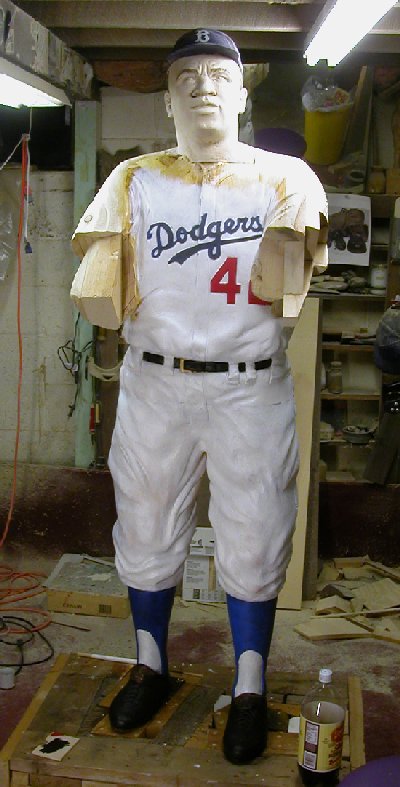 Here is one of the earliest photos of the statue. When he is finished, many people will stand inches from him and ask me, "...how did you get the uniform on?", not realizing that it is, in fact, 100% wood. One look at this photo and there's no question what he's made of. The questions don't bother me because they signify that I've done my job making wood look like clothing.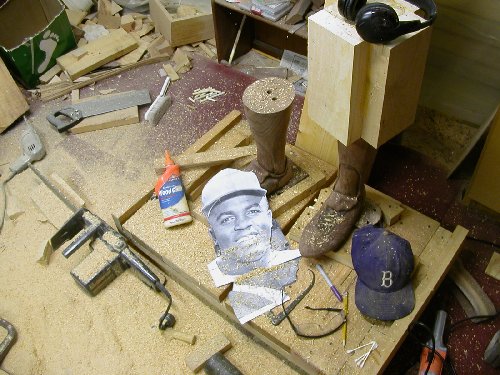 The saw dust and noise makes the ventilator and headphones a must; glasses too. It's not terribly comfortable but as the piece materializes you don't seem to mind.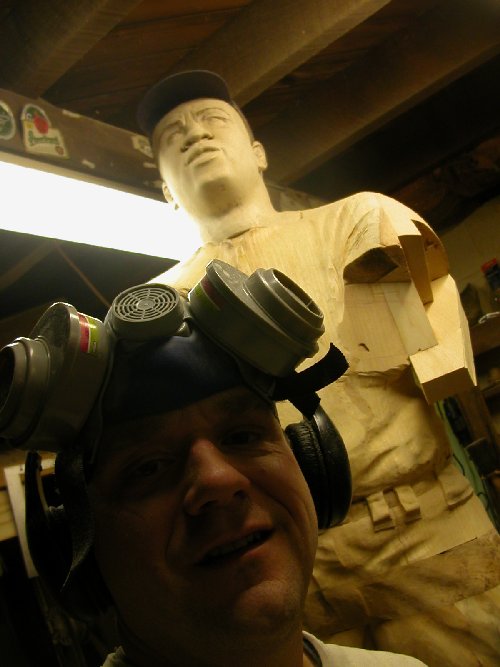 My method of fabrication is not as romantic as the classical sculptors. The piece is literally, in pieces, for quite some time, however, I'm sure that the old masters would have preferred it this way if they could have somehow managed. In my case I need to make sure that the finished item can make it out the door of my shop, not to mention be delivered to the buyer for display and remember, these are life-sized pieces on fairly substantial bases.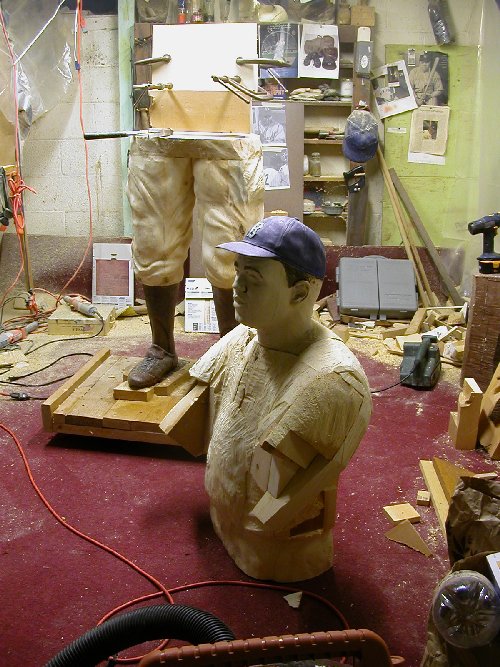 The final height is 5'11", plus and inch for hat-overage, plus 7" of fixed-base, plus the casters that allow me to roll it into different positions. You begin to appreciate the size after a while and really, anything larger would not fit into my current studio.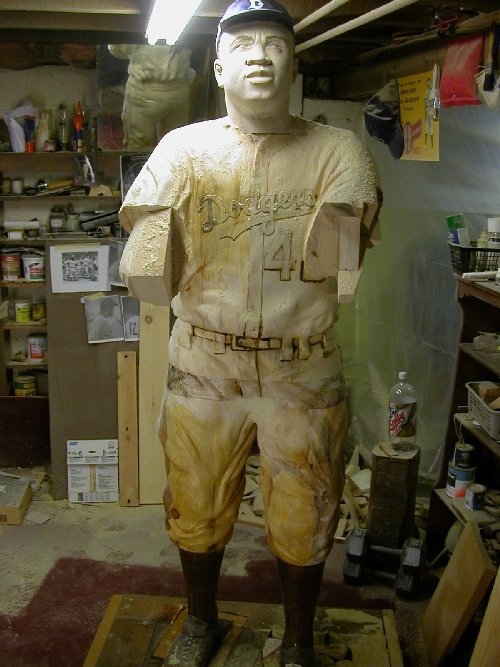 You are seeing it correctly! The Dodger's home uniforms had asymmetrical belt-loops! Two on Jackie's left and only one on his right. In addition to the loops, I have depicted him in a fairly baggy uniform, particularly when compared to the uniforms of the 1970's and 80's. If you study photos of the 1940's and 50's, you will see that the tailoring was very generous and the uniforms of the time were much bigger and more loose fitting.

info@birrerart.com Wyckoff, NJ 201-891-0125