Birrer Art Studios - Babe
Home Statues Jackie Robinson Babe Ruth Ephemera Paintings Contact Us
The Story: Babe Ruth Back Next
Just one of the many, many buckets of sawdust and chips. My estimate is that about 50 tubs this size were produced during the project. Also shown are the 1/4 inch die grinders. The shoes have even been painted to get a head start on the final look. While it seems like it might be inefficient to work that way, it can sometimes help you to envision the final figure more easily, and that will help with the later cutdown, higher up on the piece. You need to be able to squint and see the man as best you can.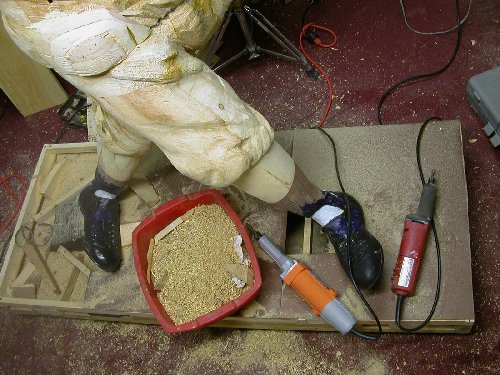 And just when you're getting up a head of steam on the figure, you have to leave it and take a sharp detour and spend a few weeks on the hands. Just to rough them out to this early state has probably already consumed more hours than I care to think about. The green Sharpie mark will help me remember where that thumb line will be.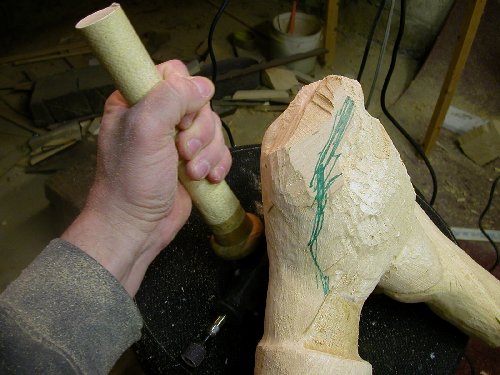 If you don't like your head covered with sawdust and stuck in the drafty hood for days on end, then don't get into this racket, because that's the reality. The sawed off baseball bat handle is there to pose my own hands with and that was done about a thousand times. Put the piece down and the tools, pick up the bat, look at photos or pick up a marker or pencil and then you are ready to mentally plan some wood-removal. After you imagine the cut or grind, you quickly drop everything and pick up the piece and the tool(s) and try and make that cut before the mental image fades. Then you do it again. And again.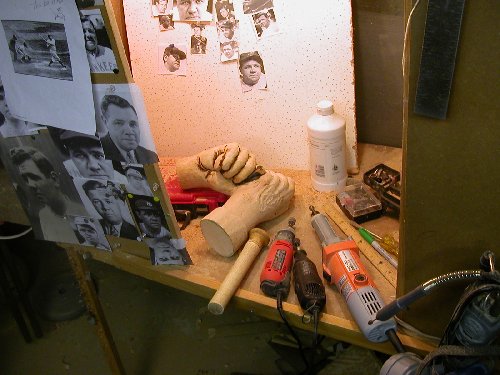 The reward is that gradually, the hands become fairly lifelike right in front of your eyes and that is just an amazing experience at times.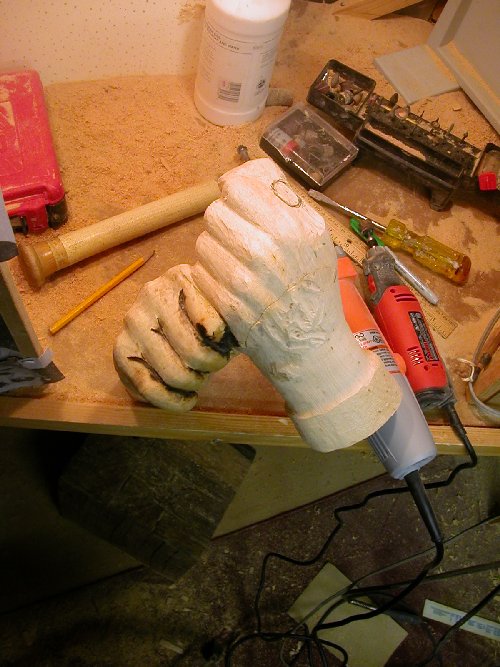 Here they meet up with some forearms and are well on their way to becoming Babe Ruth's arms.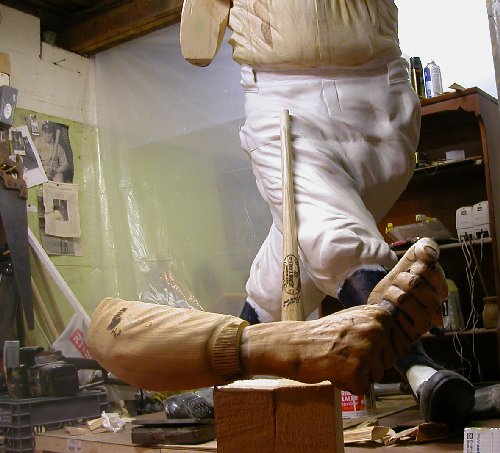 One of the most disturbing things about getting the bat into shape is cutting through a $100 Louisville Slugger Babe Ruth 1935 model bat, but it has to be done.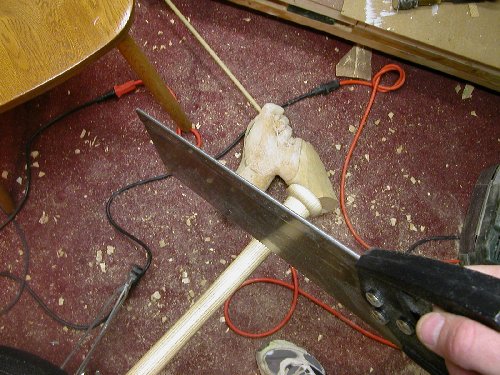 The deed is done. I'll never get used to that. The bat knob is now signed and in the hands of the man responsible for getting this project off the ground and finished--Michael Hudson of Gaylord Hotels. I have as much respect for Michael's vision and professionalism as anyone I've ever met, so it was a pleasure to give it to him as a token of my respect and thanks.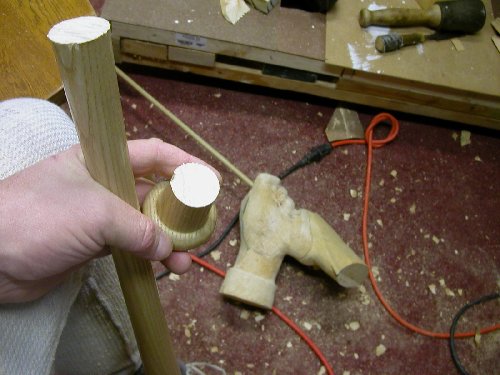 info@birrerart.com Wyckoff, NJ 201-891-0125 Home Top Next